A Proud History Spanning Over 130 Years
Owens & Minor has been serving the healthcare industry since 1882. Our Mission of empowering our customers to advance healthcare continues to be at the heart of everything we do.
A Legacy of Service
Owens & Minor continues to expand and innovate to meet the evolving needs of the healthcare market.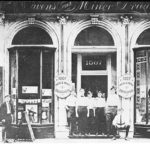 1882
Owens & Minor Drug Company opens its first location in downtown Richmond, Virginia.
1954
Owens & Minor purchases Bodeker Drug Company
1966
Purchase of A&J Hospital Supply of Richmond, Virginia, marking beginning of enduring commitment to medical/surgical distribution
1972
The company incorporates the PANDAC perpetual inventory system
1981
G. Gilmer "Gil" Minor, III, great-grandson of the founder, takes the helm, leading the company as it grows beyond its drug wholesaling roots
1988
Owens & Minor, Inc. begins trading on the NYSE under the symbol OMI
1990s: Expanding Customer Offerings
As the Company continued to be a leader in medical distribution, Owens & Minor expanded its offerings to include OMSolutions, developed under the leadership of Craig R. Smith as President. This new consulting service, providing supply chain management solutions, provided customers with additional supply chain expertise to support a secure healthcare supply no matter the circumstance. In 1994, Owens & Minor acquired Stuart Medical, nearly doubling the size of the company.
2000s: Growing Services and Acquisitions
In 2002, Owens & Minor introduced third-party logistics and also created MediChoice®, its first private label line, offering provider customers products at competitive prices. Owens & Minor continued to build a reputation for supporting supplier diversity, hosting the first annual Healthcare Supplier Diversity Symposium in 2005. The Company acquired the acute-care medical and surgical distribution business of McKesson in 2006, and in 2008, acquired the Burrows Company, a large distribution business located in the Midwest.
2010s: Continued Growth and Product and Patient-Direct Expansion
In 2014, Owens & Minor acquired Medical Action Industries, a leading U.S.-based provider of procedural kits and trays, as well as ArcRoyal, a privately-held kitting company based in Ireland. The Company entered the patient-direct business with the 2017 acquisition of Byram Healthcare, a leading domestic distributor of medical supplies sold directly to patients and home health agencies. In 2018, Owens & Minor completed the acquisition of the surgical and infection prevention business of Halyard Health, expanding its reach into new markets around the world and developing its presence in the medical products segment.
2020s and Beyond: Serving Healthcare in Every Circumstance
As the demand for healthcare services accelerate due to the ongoing coronavirus (COVID-19) pandemic, Owens & Minor continues to play an essential role in the global fight against COVID-19. Our teammates are working around the clock to ensure our healthcare customers have what they need, when they need it, enabling them to focus on the critical task of providing patient care. No matter the situation, Owens & Minor works to eliminate unnecessary costs and supply disruptions to enable healthcare customers to focus on the critical work of caring for patients.