A Proud History Spanning Over 140 Years
Owens & Minor has been serving the healthcare industry since 1882. Our Mission of empowering our customers to advance healthcare continues to be at the heart of everything we do.
140 Years of Excellence
January 2022 marks the 140th year of the official founding of Owens & Minor, which occurred on Jan. 18, 1882, in downtown Richmond, Va. Now a Fortune 500 company with more than 15,000 teammates around the world, the company has navigated periods of growth and strategic progress while forging lasting partnerships with the customers, communities, and teammates that have fueled its success.
A Legacy of Service
Owens & Minor continues to expand and innovate to meet the evolving needs of the healthcare market.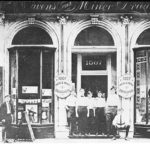 1882
Owens & Minor Drug Company opens its first location in downtown Richmond, Virginia.
1954
Owens & Minor purchases Bodeker Drug Company
1966
Purchase of A&J Hospital Supply of Richmond, Virginia, marking beginning of enduring commitment to medical/surgical distribution
1972
The company incorporates the PANDAC perpetual inventory system
1981
G. Gilmer "Gil" Minor, III, great-grandson of the founder, takes the helm, leading the company as it grows beyond its drug wholesaling roots
1988
Owens & Minor, Inc. begins trading on the NYSE under the symbol OMI
1990s: Expanding Customer Offerings
As the Company continued to be a leader in medical distribution, Owens & Minor expanded its offerings to include OMSolutions, developed under the leadership of Craig R. Smith as President. This new consulting service, providing supply chain management solutions, provided customers with additional supply chain expertise to support a secure healthcare supply no matter the circumstance. In 1994, Owens & Minor acquired Stuart Medical, nearly doubling the size of the company.
2000s: Growing Services and Acquisitions
In 2002, Owens & Minor introduced third-party logistics and also created MediChoice®, its first private label line, offering provider customers products at competitive prices. Owens & Minor continued to build a reputation for supporting supplier diversity, hosting the first annual Healthcare Supplier Diversity Symposium in 2005. The Company acquired the acute-care medical and surgical distribution business of McKesson in 2006, and in 2008, acquired the Burrows Company, a large distribution business located in the Midwest.
2010s: Continued Growth and Product and Patient-Direct Expansion
In 2014, Owens & Minor acquired Medical Action Industries, a leading U.S.-based provider of procedural kits and trays, as well as ArcRoyal, a privately-held kitting company based in Ireland. The Company entered the patient-direct business with the 2017 acquisition of Byram Healthcare, a leading domestic distributor of medical supplies sold directly to patients and home health agencies. In 2018, Owens & Minor completed the acquisition of the surgical and infection prevention business of Halyard Health, expanding its reach into new markets around the world and developing its presence in the medical products segment.
2020s: Strategic Acquisitions and Expansion into New Markets
In December of 2021, Owens & Minor completed the acquisition of American Contract Systems (ACS). ACS specializes in the kitting of Custom Procedure Trays (CPTs). Different from other solutions in the industry, ACS also provides local sterilization of the CPTs in very close proximity to the point-of-use. On March 29th, 2022, the acquisition of Apria, Inc was completed. This acquisition combines complementary Byram Healthcare and Apria product portfolios to enhance patient service through the hospital and into the home